In May 2004, TNM Print received the ISO 9001 certification, as a standard award for attention devoted to the quality, continuous improvement and the excellence of the entire process of order processing.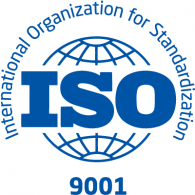 Thanks to the set standards, we are able to maintain a perpetual high level of production process and provide stable services and products to customers. We are focused on optimising costs – reduction of operating costs, elimination of low-quality products, saving of raw materials, energy and other resources.
TÜV (Technischer Überwachungs-Verein) is a German association of organizations that is dedicated to testing products of all kinds, in order to protect people and the environment against various dangers.
TÜV also provides services certification for various standards, such as the quality management system according to ISO 9001.